Frustrated With Your Blues Guitar Playing?
Are you ready to take your blues guitar playing to the next level? Here at Guitar Mojo, we provide you with blues guitar lessons on a daily basis. The latest lesson is always free, too! Sign up and become a member to view our archive!
Today's Lesson: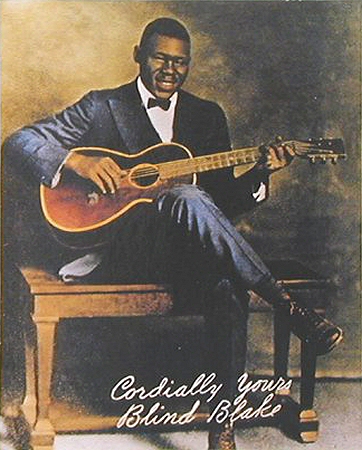 Bad Feelin Blues 1
Blind Blake (1895-1937) is a figure of enormous importance in American music. Not only was he one of the greatest blues guitarists of all-time, Blake seems to have been the primary developer of "finger-style" ragtime on the guitar, the six-string equivalent to playing ragtime on the piano. Blake mastered this form so completely that few if any, guitarists who have learned to play in this style since Blake have been able to match his quite singular achievements in this realm.
Important: This song is tuned to drop D, but you don't have to tune to it for this particular lesson as we will not be using the low E string.

Guitar Mojo has a new blues guitar lesson every day. Sign up for notifications when a new lesson is posted or become a member and view the entire archive.